Fifth Generation Chem Dependency Prog
Highway 5, P.O. Box 520 Belcourt, ND, 58316
Primary Focus of Provider
SA - Substance abuse treatment services
Services Provided
TX - Substance Abuse Treatment
HH - Halfway house
Types of Care
RL - Residential long-term treatment (more than 30 days)
Special Programs or Groups Offered
BC - Residential beds for clients' children
DU - DUI/DWI offenders
Special Language Services
NX - American Indian and Alaska Native Languages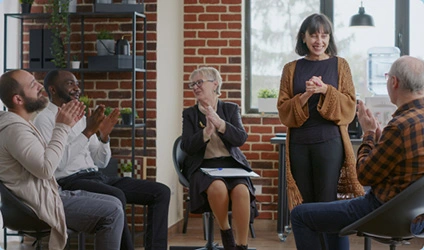 If you or someone you love is experiencing a substance use disorder, help is available.
800-662-HELP (4357)
Who Answers?
Location Details and Hours
Other Facilities Near Belcourt
Thumbnail
Name
Address
Treatment
Insurance
Samaritan Recovery Community Inc
319 South 4th Street Nashville, TN, 37206
Elaine Goodrich
22 Ossipee Trail West, Suite A Standish, ME, 04084
Southeastern AZ Behav Health Servs
404 Rex Allen Drive Willcox, AZ, 85643
Westend Clinic Inc
5736 West Florissant Avenue Saint Louis, MO, 63120
Amethyst Inc
455 East Mound Street Columbus, OH, 43215-5595
College Community Services
16940 State Highway 14, Suite F Mojave, CA, 93501-1238
More Addiction Facilities Near Belcourt
View more listings near Belcourt or search by the letter of cities in North Dakota.
View More (A)
Find a Rehab Center
Select a state to find options for rehab centers in your area.
Browse By State